11 good reasons …
Why you have the right partner at your side with Karmalaya
[Divider]
[/ Text_box]
[/ ux_banner]

11 good reasons …
Why you have the right partner at your side with Karmalaya
[Divider]
[/ Text_box]
[/ ux_banner]

Number 1: BECAUSE KARMALAYA IS QUALITY FOR QUALITY INSTEAD OF QUANTITY.
It may be uncool or less profitable to only target selected destinations in the program or not "volunteer projects worldwide", but we think it's good! After all, we prefer to go deeper than to broad, and in a few countries we offer even more diverse volunteer projects , work camps and round trips at. Because we actually know about the countries we represent! This means: Karmalaya founder Tina Eckert (former travel journalist) & her team go to the trouble and personally visit the country, select the volunteering projects, internships and training locations or initiate them first, talk with the host families, make exciting upgrades & specials and coach the local teams before sending volunteers. Tina Eckert knows almost every project personally and knows her way around.
Number 2: BECAUSE WE ARE THE NEPAL EXPERTS.
Karmalaya co-founder Bhagwan Karki is Nepalese . He speaks German and English and runs the Karmalaya office in Kathmandu. He and our staff in Nepal are available around the clock . Our Karmalaya employees are also always on the lookout to find and find new projects and internships in Nepal – as a place of employment for interested volunteers, interns and experts, as well as charitable organizations that we can support with some of the travel and our Karmalaya Foundation travel .
Number 3:  BECAUSE WE SUPPORT VOLUNTERY PROJECTS DIRECTLY .
Around 10 percent of the proceeds from our travels go into social and environmental projects . In addition, with our Karmalaya Foundation , we are actively collecting donations for selected projects, such as our blind house in the Himalayas . Karmalaya attaches great importance to ensuring that the way in which travel and projects are carried out creates the greatest possible impact on the ground. Our projects include the support and construction of schools and children's homes, education and training, ecological measures, medical education and assistance. The distribution of the funds and the control is done free of charge by us or by our partners. All funds come directly to the locals without any administrative burden.
Number 4:  BECAUSE YOU ARE NOT ONLY ONE NUMBER FOR US.
Karmalaya is a small, young company that specializes in volunteering & authentic tours & work camps in Nepal , Uganda , Indonesia & Hawaii . We are not a faceless group. Karmalaya founder Tina Eckert and her small team are always available to you as a contact person in Austria – you are welcome to use our  free callback service ! The contact with our participants is very personal both in Europe and abroad. That's important to us.
Number 5:  BECAUSE YOU CAN PLAN.
You announce your desired travel period and you are guaranteed to receive your volunteer project in Nepal, Uganda or Indonesia – in a very short time if necessary.
Number 6:  BECAUSE YOU SAVE TIME AND NERVES.
In volunteer assignments, you send us your CV and letter of motivation in advance. In the next step, we individually search for the right project for you . We'll do the rest for you. After a telephone conversation to your individual project proposal , you can easily already for your volunteer sign and your flight reservation (we can also advise you on the flight search). At the airport of your desired destination, you will be welcomed by a member of our Karmalaya team and taken to the host family or the volunteer house.
Number 7:  BECAUSE YOU CAN MAKE USE YOUR POSTAL PRACTICE.
Among other things, we offer internships in Nepal in the areas of: education, special education , social work, physiotherapy , health, nursing, medicine, veterinary medicine , obstetrics, biomedical analysis, tourism , journalism, graphic and textile design as well as in the film industry.
After receiving your application documents & the internship requirements of your training center, we are happy to examine your individual request.
Number 8:  BECAUSE YOU CAN TRAVEL ALSO.
Working is good. Travel too. We want to give you a comprehensive picture of the project country and therefore find it nice that you want to travel in your free time. Prior to your departure, you can book upgrades or authentic round trips to your volunteer mission that will complete your "Out of Home" adventure.
Number 9:  BECAUSE YOU CAN BE FLEXIBLE.
You can set the duration of your volunteer stay / internship / time off yourself and are not bound to fixed times. You can even complete a short internship of only 2 weeks.
Number 10:  BECAUSE WE ARE FLEXIBLE.
Your project is not in our list? Talk to us – and let us develop something new together! Especially in Nepal we have a big network: everything is possible with Bhagwan and our team.
Number 11:  BECAUSE YOU ARE NOT ALONE.
Our teams in the project country will welcome you warmly and make your stay abroad unforgettable & memorable. Our Volunteer House is open to all interns and volunteers and always a sociable place to interact with other volunteers and travelers.
[/ Col]
[/ row]

more reasons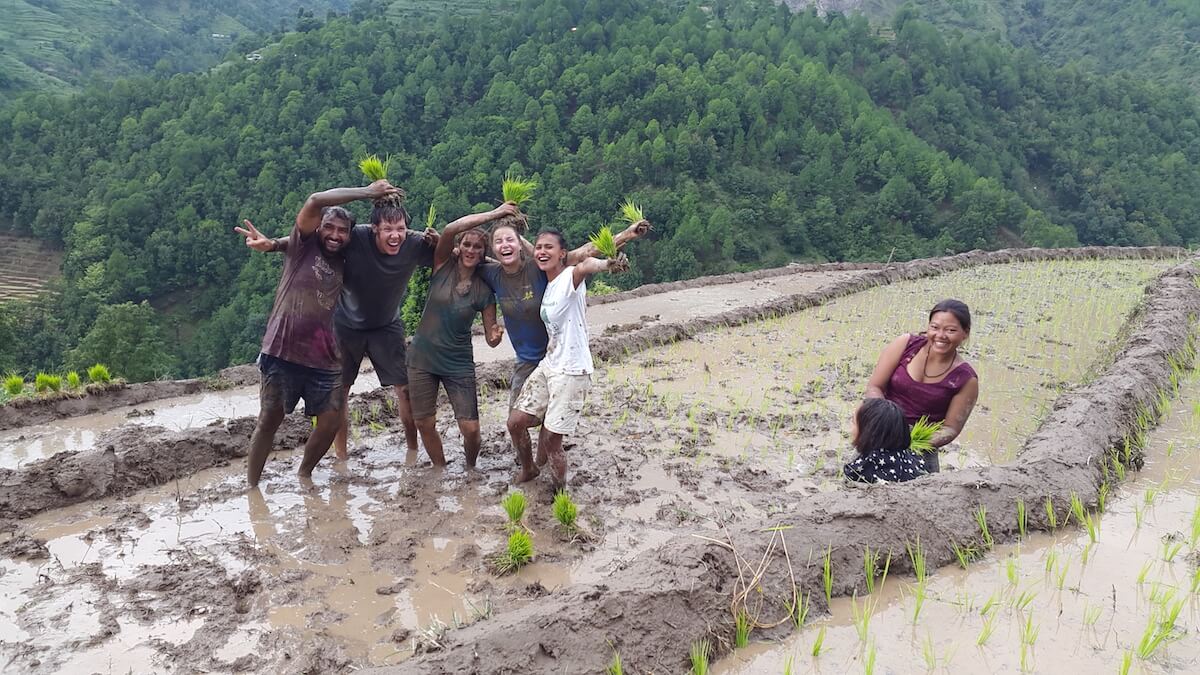 [/ col]

PRODUCT REVIEWS
Here are some other reasons why a foreign assignment with Karmalaya is a good choice.
[/ Col]
[/ row]

COLLECTIVE EXPERIENCES & EXPERIENCES FOR LIFE
[Ux_slider]

bg_overlay = "rgba (0, 0, 0, 0.68)" bg_pos = "79% 68%"]

I've learned that it pays to get involved in new things and try things out. I've learned that I can
feel at home at the other end of the world, even though it's all about the people (and beast!) Around you. I have learned that despite all the differences in culture, religion,
lifestyle etc. , we are all very similar. Thanks to the many great people that I got to know, I got to know completely new perspectives on my life and the life in general.

[/ Testimonial]

[/ Text_box]

[/ ux_banner]
[ux_banner_height = "378px" bg = "5372" bg_overlay = "rgba (0, 0, 0, 0.68)" bg_pos = "79% 68%"]

I have learned to live in simple conditions, to enjoy each day anew, and to waste less thought of past or future. In addition, I have learned to be more open to others and not judge directly after the first impression.

[/ Testimonial]

[/ Text_box]

[/ ux_banner]
[ux_banner_height = "378px" bg = "5372" bg_overlay = "rgba (0, 0, 0, 0.68)" bg_pos = "79% 68%"]

I have learned to walk through life more relaxed. Nepalis are neither stressed nor crushed in their good mood. I would like to implement that as well. However, I also learned that organization and planning are very good and helpful, especially in professional life.

[/ Testimonial]

[/ Text_box]

[/ ux_banner]
[ux_banner_height = "378px" bg = "5372" bg_overlay = "rgba (0, 0, 0, 0.68)" bg_pos = "79% 68%"]

You do not need anything material to be happy. Generally, it does not need much. The children in the monastery threw up tufts of grass and were so happy. It can be that easy. I have learned ways to be more balanced and to focus more on myself.

When you smile at the world, she smiles back – the people in Nepal are very friendly and open. I was able to meet great people, for which I am very grateful.

[/ Testimonial]

[/ Text_box]

[/ ux_banner]
[ux_banner_height = "378px" bg = "5372" bg_overlay = "rgba (0, 0, 0, 0.68)" bg_pos = "79% 68%"]

Mich hat diese Reise sehr erholt, in dem Maße, dass ich die meiste Zeit im "Jetzt" war. Sicherlich auch bedingt dadurch, dass mich die Trekkingtour schon körperlich gefordert hat. So gab es wenig Zeit für diese endlosen Gedankenschleifen 🙂

Es gibt für jedes Problem wirklich eine Lösung! Mit etwas Abstand von daheim erkennt man auch wie unbedeutend und sinnlos die eigenen "Probleme" eigentlich sind und dass man seine begrenzte Lebenszeit nutzen sollte, um so viel
wie möglich von unserer Welt zu sehen, Kulturen und Menschen kennenzulernen und sich selbst ständig weiterzuentwickeln.

In bereits meiner ersten Woche zurück in Deutschland habe ich gemerkt, dass Nepal mich verändert hat. Vor allem meine gewonnene Gelassenheit find ich eine sehr wertvolle Eigenschaften, in so einer stressigen Welt in welcher wir leben. Besonders das Meditieren hat mich dort sehr weiter gebracht. Auch der Zusammenhalt unter den Volontären in Nepal war ein wichtiger Faktor, damit man sich wohl gefühlt hat. Ich nehme meine Mitmenschen anders wahr und schätze sie jetzt mehr.

[/ux_slider]
finde dein freiwilligeneinsatzprojekt
slider_nav_position = "outside" slider_bullets = "true" cat = "64" products = "30" orderby = "rand" order = "asc" image_height = " 100% "]
[Gap]